Pediatric sleep issues last a lifetime; join the movement ASAP
Dr. Michelle Weddle explains that pediatric sleep disorders can have negative effects on children's lives, so pediatric dentists need the information and support to be advocates for those who need treatment.
Dr. Michelle Weddle discusses how clinicians can play a large role in improving the lives of children with pediatric sleep disorders
"Michelle, you dentists don't know what you can do for these kids. Medicine can diagnose this condition. They can manage and give the child allergy medications and CPAP. But you dentists can help treat it."
Those memorable words were spoken to me by the late Dr. Christian Guilleminault in a private conversation. Treat is an ambitious word, but it's also a goal we're very comfortable with. Whether OSA or any of the conditions in the SRBD spectrum, we know the etiology is multifactorial. Because of that, treatment requires a multi-prong approach. It is idealistic at best and egotistic at worst to think that dentists can treat, to full resolution, every SRBD patient. But we know that in many cases we can make it better. Anecdotal feedback from other providers, patients, and their families can bring you to tears with the way some of the lives of these children have changed. Equally as important, this supposition is supported by a litany of medical and dental literature.
No one should deny a child airway therapy. And no one can deny dentistry's vital role in the provision of pediatric airway therapies. From overt obstructive sleep apnea (OSA) to the milder conditions in the spectrum of sleep-related breathing disorders (SRBD), the literature is replete with evidence supporting the positive impact dentists can fulfill as part of a multi-disciplinary team delivering positive patient treatment outcomes that benefit their lifelong health trajectory.
In the adult sleep medicine field, we grasp the impact of oral appliance therapy in the life of a person. It affects every facet of their being — from their performance at work and familial relationships to their diets and medication profile.
With pediatric patients, the impact can be even more profound because of their ongoing development. Treated SRBD can have a pronounced positive impact while untreated SRBD can have a disproportionately deleterious impact on the following:
IQ, brain development, and cognition
Focus and school performance
Breathing patterns and sports performance
Behavior which can have implicit (attitudinal issues which affect peers, siblings, and parents) and explicit (juvenile crime, drug use) societal costs
Accidents (auto, sports, etc.)
The effects are not only limited to the affected child. They ripple outward and may affect others in their sphere: parents, fellow students, siblings, and other caregivers. Additionally, the advent of Covid-19 underscored the importance of underlying health issues in a population.
Hopefully, I've convincingly established the fact that dentists can make a real difference. But who's going to do it? Since we're dealing with pediatrics, the most obvious choice is the pediatric dentist. But what about general dentists? What role does the orthodontist have? How about periodontists and oral surgeons? All these dentists have a role to play in the management of pediatric airway. Our study club sees all these specialties represented, and they each play unique, vital positions:
General and Pediatric dentists: Screen, educate, triage, early treatment/management, referrals to specialists
Orthodontists: Screen, educate, full management of growth guidance from childhood into adulthood
Periodontists and Oral surgeons: Screen, performance of surgical assists in the orthodontic and growth guidance therapies, SFOT, TMJ support/therapies.
As a reader of Pediatric Dental Practice US, you are uniquely positioned to offer pediatric airway and sleep therapies. Consider the following:
Many risk factors in airway and sleep conditions are genetic.
Risk factors that are not genetic are functional, usually affected by the environment and diet, which these adults share with their children.
Adult patients in this type of practice already understand the condition and are there to seek treatment.
Trust and rapport have already been established between the patient (parent), dentist, and team.
Allow me to connect the dots here. All the points mentioned above mean that you and your practice can play a pivotal role in these kids' lives. You are in the best position to add pediatric airway and sleep services to your practice.
Managing pediatric airway is firmly in our wheelhouse. This is very similar to the work dentists do daily. In dentistry, care is usually coordinated by the general or restorative dentist with referrals to many different specialists depending on the needs of the patients. We are masters of interdisciplinary treatment. In contrast, many outside the dental healthcare industry practice a multidisciplinary working model, which usually means that one specialty or branch does everything they can do for the patient, and then if there are still conditions that need to be addressed, the patient is referred to the next specialty for care of most (if not all) of the residual symptoms and issues. What's the difference? Managing pediatric airway and sleep requires the interdisciplinary approach that dentists are very well-versed in. For growing kids, management is not a series of linear visits to one provider, then the next. It usually entails visits to multiple providers at the same time. Who will direct the care? Which providers will the child see and when? This IS in the dentist's wheelhouse, and we are best suited to direct this care. You can have an incredible impact on these people's lives. Will you heed the call?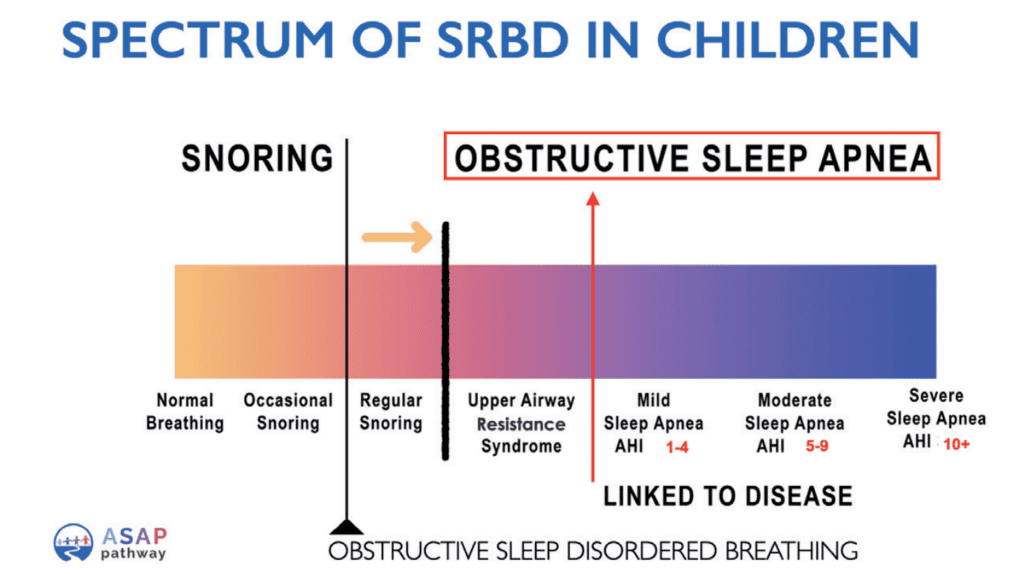 Maybe you're sold on the concept now. After sharing this information with my colleagues, they inevitably ask the subsequent three questions:
How do I learn to do this?
Compared to a decade ago, there are more places to get educated in pediatric airway. We've come a long way, but it is still deficient when compared to other continuing education topics like implants or even adult sleep medicine. Many of the education providers in pediatric dentistry are centered on a commercial product or singular technique. When looking for an education provider, it is important to get perspective from the clinical standpoint, e.g., dentists who have been using the product or practicing the technique. Ideally, these dentists are independent practitioners.
It's also crucial to consider how we learn. While something may be resonant the first time, we only retain a miniscule amount of information upon first exposure. This is especially true of new concepts. Seek educational platforms that provide ongoing access to the educational materials. The information will be reinforced and take on different meaning as you get real-world experience.
Is it worth the investment?
Implementation is where the rubber of education meets the road of treatment on the path to the always desirable ROI. Attaining a significant ROI requires work from you and your dental team. This is definitely a team sport. You must have buy-in from the entire team — hygienists, assistants, administrative support, office manager, etc. Without them, you cannot productively do this. It can burn a lot of time and drive down production for the day if you don't have efficient systems in place.
When considering implementing pediatric airway and sleep therapies in your practice, it is of paramount importance that you consider all the following:
Who are the team members who will help spearhead this in the practice? Do you have sufficient staff to do this without negatively affecting your general practice?
How will the team be trained? Like every new product or procedure, successful implementation of pediatric airway and sleep depends on your team being engaged and knowledgeable about how these services fit in to the other services that you offer in your practice. Have you allocated the budget and dedicated the time for this? What happens if there is staff turnover. How will new staff members be trained? How will offering this service fit into the existing flow of the practice?
Do you have the support of an external team of healthcare providers to promote the team approach to managing these conditions?
Is it sustainable in my practice?
Incorporating any new procedure in the practice has challenges. To ensure the smoothest pathway to incorporate pediatric airway and sleep, you'll need:
Protocols tailored to how your practice operates.
Cohesive dental team that understands the role of each person in the practice in the rationale for integrating this service into your existing services.
Realistic financial arrangements that factor the cost to the practice regarding time, materials, and resources so that the practice stays financially viable while trying to incorporate these services.
Support group of like-minded colleagues that have overcome the challenges you'll face and exchange ideas, best practices, and share camaraderie.
Now what?
The field of pediatric airway and sleep is a rapidly growing field that has not yet reached its potential. There is an immense need for providers to help children and their families. It behooves the profession to increase awareness about how dentists can play a role in helping children with these issues through public awareness but also advocacy at the legislative level.
As with many procedures, the limitation for some patients to initiating treatment is financial constraints. Influencing third-party reimbursements for these conditions and services could go a long way in improving the health of the children affected. We are the frontline, the proverbial spearhead.
There is a lot of work to be done. Fortunately, there are many dentists. Kids need you. Their families need you. Society needs you. If you are interested in providing pediatric airway and sleep services (screening, early management, treatment, or advocacy), seek a comprehensive education platform focused on the subject ASAP. Join the movement.
Dr. Michelle Weddle is a general dentist in private practice in NJ. She's a graduate of the NYU College of Dentistry with a General Practice Residency certificate from Newark Beth Israel. She completed the mini-residency in dental sleep medicine at Tufts University and is a Diplomate of the American Board of Dental Sleep Medicine. Dr. Weddle studied at the Pankey Institute, The Dawson Center, and The Kois Center in her pursuit of acquiring higher education. Her general, sleep, and TMJ practices focus on the integration of oral health into whole body health. Her practice has a special focus on the management of airway issues in adults and children. Coming full circle, she served as a visiting faculty mentor for the Airway Prosthodontics Workshop at Spear Education. Dr. Weddle is a Fellow of the AGD and the ACD. She is a member of the American Academy of Oral Systemic Health, the AAPMD, the AADSM, and the IAO. She is a member of the AGD, the ADA, and the NJDA. Recently, she co-founded ASAP Pathway, a community of dentists learning to implement a collaborative, interdisciplinary model of pediatric airway management in private practice.