Using innovation to create a dental home for all children
Dr. E. LaRee Johnson's pediatric dental practice, which treats patients from all socioeconomic backgrounds, uses compassion and products from NuSmile to reduce pain and fear in the youngest patients.
Carolina Pediatric Dentistry finds the formula to deliver state-of-the-art treatment to patients from diverse socioeconomic backgrounds
Making a bold vision a reality
Dr. LaRee Johnson founded Carolina Pediatric Dentistry in 2002 with a vision of making the practice a dental home for all children. In 2015, Dr. Clark Morris partnered into the practice with an identical sentiment. Since then, Drs. Rosie Nguyen, Miranda Kalaskey, Taylor Windley, Jordan Reading, and Aïssatou Barry-Blocker have joined the practice to increase access to care for all children. "Our goal has always been to treat children regardless of the family's income level," said Dr. Johnson, "and we're proud to say that our patients are just as likely to come from foster care as they are from highly affluent neighborhoods." This practice routinely sees children who travel hours to receive treatment due to special healthcare needs, full-mouth zirconia crown restoration, or seeking access to care due to their type of insurance.
Dr. Johnson acknowledged that every pediatric dentist wants to serve all children; however, creating a fiscally-sound practice with this mission is another thing entirely. "Transforming this vision into a reality has required relentless commitment combined with an equally dedicated, trained, high-functioning team using innovative, affordable products that allow our practice to consistently provide positive clinical outcomes and operate at an exceptional level of efficiency," she said.
Innovative technologies that boost efficiency — affordably!
Dr. Johnson apologized for being a few minutes late to her interview for this article, but she had a good excuse — she had just finished an emergency pulpotomy and zirconia crown procedure in which she was able to save the tooth of a 1-year-old.
An early adopter of innovative technologies throughout her dental career, Dr. Johnson said she relies on two new product lines from NuSmile. The first is NeoPUTTY®, a premixed MTA designed for pediatric use. Dr. Johnson also uses a combination of the SleeperOne and Soan (by Dentalhitec), a new line of local anesthetic digital delivery systems designed to be easy, convenient, and painless. "The condition of the tooth combined with a traumatized, wiggly 1-year-old's intolerance for a dental procedure required swift treatment," she said. "A pulpotomy was the only option. You can't do a pulpectomy on a 1-year-old child with incomplete root formation. Conventional MTA would have taken longer to mix, but NeoPUTTY requires no mixing. The Dentalhitec devices allow for compassionate intraosseous injections and subsequent immediate start of treatment, which made the child as comfortable as possible during the procedure."
The Dentalhitec devices allow for compassionate intraosseous injections and subsequent immediate start of treatment, which made the child as comfortable as possible during the procedure.
A special inspiration
NeoPUTTY, a bioceramic material, and the Dentalhitec devices come from the same manufacturer — NuSmile, a company primarily known for its esthetic pediatric crowns. Dr. Johnson has been an admirer of NuSmile and its Founder/CEO Diane Johnson Krueger since she started her pediatric dental residency as a 24-year-old. "I met Diane when I was a first-year resident, and it was immediately apparent just how seriously committed she was to serving children and pediatric dentists," she recalled. "Her first product was the Signature pre-veneered crown, which revolutionized the way we restored primary anterior teeth. They can be placed quickly, they're not as moisture-dependent or technique-sensitive as strip crowns, and they wear better. In fact, Signature crowns are still a go-to product in our practice, even though NuSmile's zirconia crowns are my favorite."
"When I founded NuSmile in 1991," said Ms. Krueger, "I just wanted to make it possible for kids' front teeth to be restored with something other than stainless-steel crowns. I never had silver teeth myself as a child, but I did have a fall that darkened one of my teeth. That made me very self-conscious and gave me some sense of how kids must feel with stainless-steel anterior crowns."
Dr. Johnson says BioFlx™, NuSmile's newest line of pediatric crowns, might be her favorite crown innovation yet. Made of medical grade polymer, BioFlx is the first flexible, durable, and esthetic pediatric crown. Doctors at Carolina Pediatric Dentistry can place a BioFlx crown in the same amount of time it takes to place a stainless-steel crown. Dr. Johnson is hopeful that dental insurance providers and Medicaid will eventually cover BioFlx to make it more affordable for all children. "I would love to eliminate silver from children's mouths," she said. "All children deserve to have esthetic crowns."
A shared passion for pediatric dentistry
"So many of the products we use as pediatric dentists are designed primarily for general dentists or other specialists," said Dr. Johnson. She appreciates the fact that NuSmile is one of the few manufacturers that is truly focused on the unique needs of pediatric practitioners and patients. "I've been practicing for a long time, and I can't think of another manufacturer that has ever asked my opinion about how their products could be improved. As a pediatric dentist, I really appreciate that."
The feeling is mutual, according to NuSmile's Founder and CEO. "I love pediatric dentistry and working with pediatric dentists," said Ms. Krueger. "I love their demeanor, their commitment, their compassion, and what they do every day in their practices for their patients."
According to Dr. Johnson, "Diane could have retired successfully following the launch of Signature crowns decades ago, but she didn't. She keeps striving to bring us brilliant innovations that make life better for children, doctors, and their teams, and still manages to charge very reasonable prices for those innovations."
Expanding the horizons of pediatric dentistry efficiency
Dr. Johnson is thrilled to see that NuSmile has recently expanded its flair for efficiency-enhancing innovation to the world of local anesthetic devices. The company has just launched two local anesthetic digital delivery devices that Dr. Johnson has been testing, both part of Dentalhitec: the corded SleeperOne and the wireless Soan. "Both allow us to deliver local anesthesia in the kindest way possible by making it impossible to inject too fast and cause discomfort for our patients," she said. "As providers, we all try to give our patients the most compassionate care possible; however, I'm confident that with conventional manual syringes, our injections often unintentionally deliver more than the one milliliter per minute (which is considered the most painless way to deliver local anesthetic). It is absolutely impossible to deliver local anesthetic too fast with the SleeperOne or the Soan."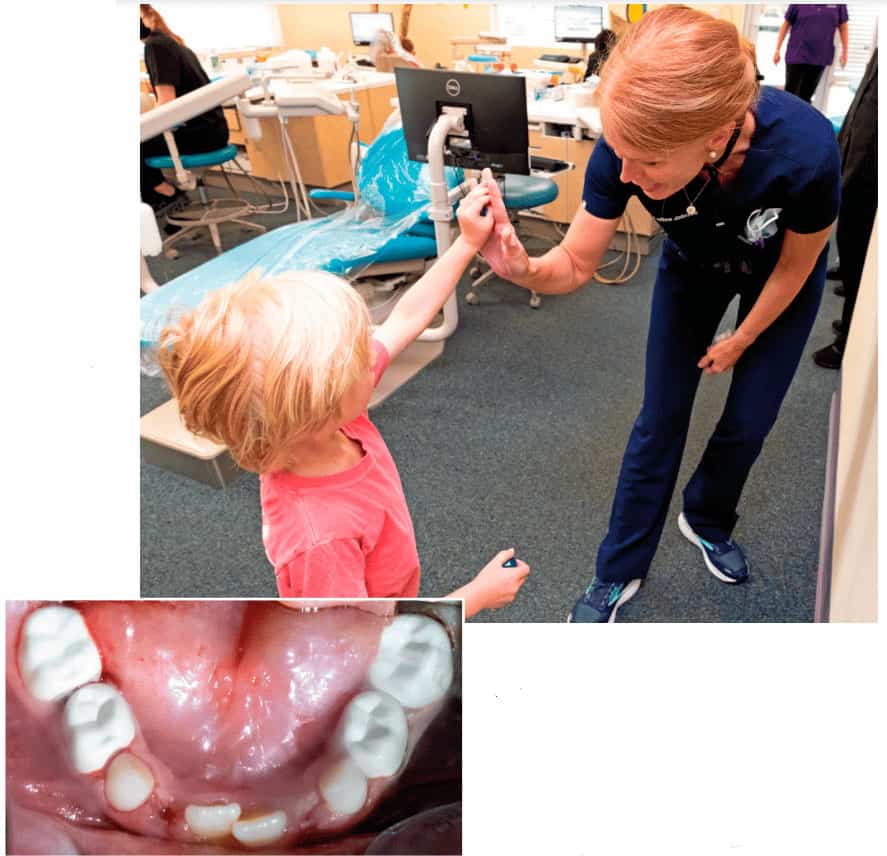 Dr. Johnson admires the two instruments' designs, which are easy for dentists and hygienists to use and do not look scary to children. They also avoid another problem — after over 20 years of squeezing syringes, the thumb and forefinger on her right hand had developed ganglion cysts. Also, the thumb and forefinger on her right hand were significantly larger than the thumb and forefinger on her left hand due to chronic overuse inflammation. "But after 3 months of having the SleeperOne and Soan in our practice, the sizes of my ganglion cysts, right forefinger, and right thumb have decreased noticeably," she said. "I feel I owe it to younger pediatric dentists who think they're invincible to urge them to take care of their bodies by using ergonomically advanced products like the SleeperOne and Soan. And there's another benefit — it's much easier to interact with your patients using these devices — especially with the Soan's 'cruise' setting that operates on its own with a simple tap of your foot," avoiding the stress of squeezing and pressing and the risk of delivering anesthesia too rapidly with manual syringes.
Teaching about technique — and life
While Dr. Johnson has always been in full-time private practice, she has also had her hand in teaching at her alma mater, the University of North Carolina Adams School of Dentistry. She will begin soon as an adjunct faculty member at the East Carolina University School of Dental Medicine, and she also teaches at continuing education events sponsored by AAPD, other dental organizations, and NuSmile. She particularly enjoys showing her students 10-plus years of radiographic and photo follow-up on cases to illustrate best practices, as well as the cases she wishes she had done differently. "It's especially gratifying to see students' reactions when I show them how they can use one material in the pulpotomy instead of multiple or provide other insights that allow them to simplify a procedure while improving the outcome. I love teaching with a hands-on component; you can talk about something all day long, but until someone picks up a handpiece and utilizes a typodont, you can't understand their knowledge gaps and technique barriers to success. It's my favorite way to teach."
According to Dr. Johnson, teaching needs to be about more than clinical procedures. "I also teach about the day-to-day aspects of running a practice, working in one, and maintaining a healthy work-life balance," said the married mother of two young adults, Umstead 100-Mile Endurance Run Finisher, and three-time Ironman. "I'll be forever grateful to the many outstanding teachers I had, and teaching others is a great way to pay that forward."
A dream come true
The dream of creating a practice that is truly a dental home for all children is both highly ambitious and very admirable. Fortunately for their patients, Carolina Pediatric Dentistry has clearly found the right formula, and the right partners, for success.
LaRee Johnson, DDS, MS, FAAPD, was born in Southern California and migrated across the country for education. Ultimately, she landed in North Carolina where she and her husband have raised their children, and she has practiced full-time since 1999. For Dr. Johnson, pediatric dentistry is the perfect combination of working with children and art (utilizing a medium of various dental materials to achieve a perfect esthetic result). Dr. Johnson believes all children deserve a dental home and has spent her career advocating for those with special health care needs and those with issues in access to care. Her practice is a dichotomy spanning underprivileged children to fee-for-service private pay and includes treatments such as full mouth dental rehabilitation with composite resins, BioFlx™, and zirconia (ZR) crowns. Dr. Johnson loves being a pediatric dentist and teaching others compassionate clinical excellence with efficiency.