This is not a drill: tips to improve patient experience with laser technology
Dr. Jenny Jackson feels that her Solea Laser has improved practice efficiency, reduced the need for numbing, and also eliminates many mental triggers for her young patients.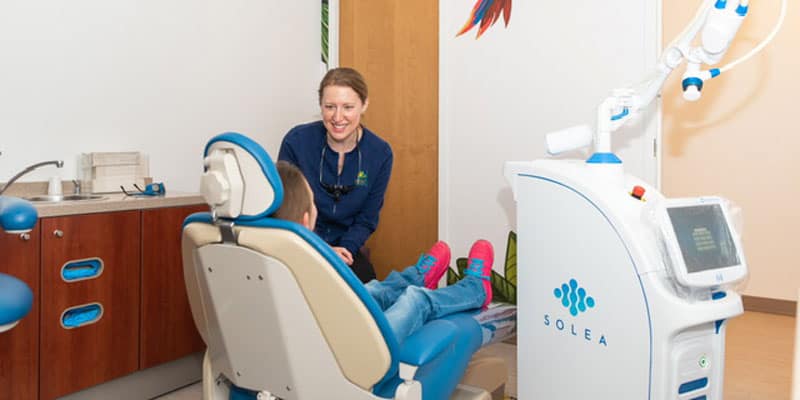 Dr. Jenny Jackson discusses the positive effects of using laser technology in her pediatric practice
Whether it's a fear of needles, embarrassment over the state of their teeth, or worries about anesthesia, more than one-third of people in the United States have a fear of dental treatment, with about 12% reporting extreme fear.1 Meanwhile, only about 10% of people consider a visit to the dentist a relaxing experience. For some, even the sound of a drill is enough to make their heart race and their palms sweat.
Our patients are excited for anything we can do to make their visit more pleasant. Some of this will start before the patient ever gets into the chair, with a warm, welcoming team member answering the phone, or a beautiful, relaxing waiting room designed to put the family at ease. There are also many things you can do during appointments to reduce anxiety, minimize pain and discomfort, and improve outcomes and satisfaction.
Our dental practice specializes in pediatrics, which means we want to deliver positive experiences and outcomes for our young patients and their parents. Following are several methods we use that have helped us transform the dental experience for children of all ages, while turning parents into enthusiastic supporters of our office. In the process, we've grown our practice and improved our clinical outcomes.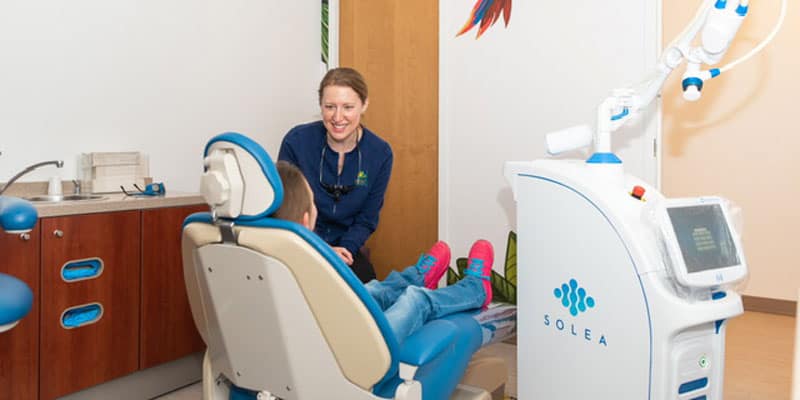 Reduce the reliance on needles and numbing.
Fear of needles is one of the biggest factors driving dental anxiety. As many as two-thirds of children and a quarter of adults have a strong fear of needles, often due to previous negative experiences with injections.2 At our practice, we rarely use anesthesia. My Solea® All-Tissue Laser (Convergent Dental) allows me to complete fillings, stainless steel crowns, and even some minor extractions without injectable anesthetic. Incredibly, in the 3 years I have been using this laser, I can count on one hand the number of teeth I've had to anesthetize to restore.
Reduce high-speed handpiece use and remove mental triggers
More than 20% of dental patients say they are afraid of dental drills, and even the sound of a drill is enough to induce anxiety in many patients. To exacerbate this, the vibrations of the high-speed handpiece can have a lifelong trigger effect on patients. Because I use the laser, the handpiece's high pitch and vibrations are minimized during preps, plus we have more precise control, which allows us to do more from a procedural standpoint than I ever imagined. I've also found that patients get excited about laser technology. Their first experience with the laser is a transformative moment for many, as they realize that they can continue to receive excellent care without the noise and sensation of the drill. Hopefully my youngest patients will never have to experience traditional handpiece-only dentistry.
Work faster and reduce recovery time.
Beyond addressing patient fears, one of the biggest steps you can take to improve the experience of a dental visit is to get patients back to their day as soon as possible. Many parents may struggle to take time off work for checkups and procedures. With traditional methods, chair time may be longer because anesthetic or numbing is required. The Solea laser eliminates the need for numbing in most procedures, which allows our team to work faster and deliver excellent outcomes. Fillings can be done in a matter of minutes, and we can work in multiple quadrants during one visit, meaning fewer visits for patients. We can sometimes even work in treatment the same day as diagnosis; it really just boils down to our schedule. Since they don't have to be numbed, patients and families can quickly get back to their days. The laser also delivers an unexpected outcome: Patients who are asked about their experience with the laser often say it was fun!
Share more information to create engaged patients.
We all know that patients don't want to be lectured about missed visits or poor oral health, and the last thing you want to do is to make patients feel badly about themselves. I've found that golden teaching moments often occur in the sharing of positive feedback about a patient's oral health. A survey last year found that more than 86% of patients want their dentist to go beyond highlighting cavities and point out the condition of all of their teeth, even the ones in good health. Sharing positive messages like this can help patients feel like their oral health efforts are making a difference. At the same time, educating young patients and parents about the procedures you're performing can make them feel more in control of their visit, which can help them relax. Knowing that you are using advanced technology to ensure the best outcomes can increase their satisfaction, encourage referrals for your practice, and may even inspire a young patient to pursue a career in dentistry.
Trusted relationships lead to practice growth.
Building trust with patients takes time. Once you've established trust, though, patients will look to you for as much of their dental care as possible. For example, because of the experience we've created for patients and parents, I've had the opportunity to use the laser for procedures like frenectomies, gingivectomies, and even exposing and bonding impacted canines, which I would have previously referred out. Our happy patients are spreading the word about their positive experiences. Partially because of the efficiency of laser dentistry, we were also able to regain our financial footage after the pandemic shutdowns in less than 1 year. Another result of this efficiency of incorporating the laser into our practice, we've seen an overall increase of 150% in practice production and a 50% increase in our daily operative average.
If adopting laser technology feels like a major step for your practice, I encourage you to think about the impact that laser technology can have on the patient experience. Not only does laser technology improve practice efficiency, which all patients appreciate, it can improve outcomes for young patients, while inspiring patients and parents to recommend your office to their friends. Since improving patient experience also allows you to expand your practice, the benefits can be even greater. At the center of it all is the heart and love that you get to put into what you do each day with greater ease and fluidity, with happier patients, a happier team, and less stress for all.
Jenny Jackson, DMD, MPH, FAAPD, graduated as valedictorian with a degree in microbiology from North Carolina State University before attending the Harvard School of Dental Medicine where she was given the Silver Medal Award for overall excellence at the top of the class, as well as the Dean's Community Service Award and was chosen to be a part of the HSDM/Forsyth Institute Research Academy. With a passion for helping children, Dr. Jackson opened her own practice in Asheville, North Carolina in 2007. She currently serves as Immediate past president of the NC Academy of Pediatric Dentistry, is an adjunct assistant professor at UNC Chapel Hill Dental School, and has volunteered extensively with the Asheville City Schools Head Start Program and teaching local GPR residents.
Disclosure: Dr. Jackson is a member of the Clinical Advisory Board for Convergent Dental, creator of the Solea All-Tissue Laser.
Cleveland Clinic website. https://my.clevelandclinic.org/health/diseases/22594-dentophobia-fear-of-dentists. Updated March 22, 2022. Accessed July 12, 2023.
Needle Fears and Phobia – Find Ways to Manage. Centers for Disease Control and Prevention website. https://www.cdc.gov/childrensmentalhealth/features/needle-fears-and-phobia.html#:~:text=Estimates%20show%20that%20as%20many,have%20strong%20fears%20around%20needles. Updated March 8, 2023. Accessed July 12, 2023.
Calladine H, Currie CC, Penlington C. A survey of patients' concerns about visiting the dentist and how dentists can help. J Oral Rehabil. 2022 Apr;49(4):414-421.
Besides using a Solea Laser for pediatric dentistry, some dentists are incorporating their laser into their sleep dentistry practice. Read about how Dr. Anthony Bolamperti treats his snoring patients noninvasively with Solea lasers in our sister publication, Dental Sleep Practice. https://dentalsleeppractice.com/wake-up-call/